Wangfujing Street
Wangfujing, situated north of Chang'an Boulevard East, has been around for well over a century as a well-known shopping street in Beijing. Stores stand cheek by jowl on either side of the street, and the best known of them are Beijing Department Store, Shidu Emporium New Dong'an Market.
Qianmen Street
Already a major business center 500 years ago, Qianmen Street is clustered with old stores. Many stores on the "pedestrians only" Dashalan Street, for instance, are at least 100 years old.
Xidan Commercial Zone
With the newly built Xidan Cultural Plaza on its southern end, Xidan Street is yet another prosperous shopping zone of Beijing. Apart from such "giants" as Huawei Shopping Mall, Xidan Shopping Centre, Zhongyou Department Store and Xidan Emporium, there are also many specialty stores selling brand-name commodities. With an array of restaurants and fast food outlets in all manner of cuisine, Xidan is also an epicurean paradise.
Yinjie Street
Quite a few famous brands around the world have earned a niche in the specialty shops that cluster along Yinjie Street, or Silver Street, which refers to a stretch of Dongdan Street North.
Liulichang Cultural Street
An ocean of souvenirs are for sale in the stores that line both sides of the ancient cultural street at Liulichang Street beyond Xuanwu Gate. These include age-old stores that sell traditional Chinese calligraphy and painting, folk arts and crafts and second-hand books and periodicals. All the stores are housed in buildings that have retained old architectural styles. Shopping in this street is a de facto sightseeing tour as well.
Jianguomenwai Street
As befitted its reputation as a diplomatic mission zone, Jianguomenwai Street, or the street outside Jianguo Gate of Beijing, has developed a series of shopping and service facilities known for their neat and elegant environments. The famed Friendship Store, Scitech Shopping Centre, Guiyou Tower, Henderson Shopping Centre and COFCO Plaza are all in this street. The Xiushui Street Bazaar and the Yabaolu Market are favorites with visitors from overseas.
Chaowai Street
Chaowai Street, situated outside Chaoyang Gate, put its name on the map only a few years ago as a rising shopping zone. Growing robustly, it has attracted such giant shopping centers as Fenglian, Huapu and Landao.
Wangfujing street and its surroundings have quite a selection of shopping options. There are two western style, modern malls. One has an English name written on it saying "Sun Dong An", which is confusing because its Chinese name is "Xin Dong An". This one is the older of the two, situated on the center crossroads of Wangfujing street, 12 minutes walk north of the subway station. It has 6 floors of shops and some pretty glass elevators. Here you can find fashion stores, souvenirs, cafes and restaurants, a cinema and a built-in large department store with some reasonably priced high-quality electronics.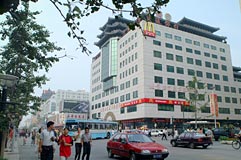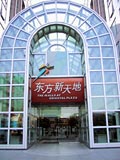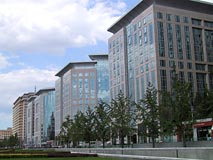 The second of the two malls is near the subway and is called Oriental Plaza. This is a huge complex and one of the biggest malls in Asia. It has only 2 floors, but it stretches for a few city blocks. It is so big there are subway stations more or less at each end. It takes about 15 minutes to walk the length, if you are a quick walker. Oriental Plaza has many fashion stores, a lot of cafes and restaurants, a cinema, an Apple Computer center, VW Audi car showroom, Sony science exhibition center, banks and lots more.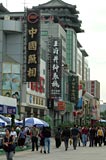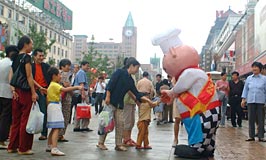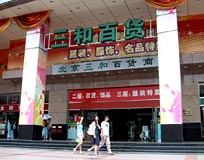 Apart from the malls there are many large, tradional department stores, souvenir stores, and a side street with tradional Chinese food stalls. Wangfujing is not merely a shopping street but a whole experience. There are often large exhibitions and festivals held on the street. Check out our tourist Trail--wangfujing section for more details about why people come to the street and some more pictures.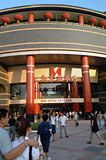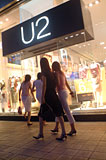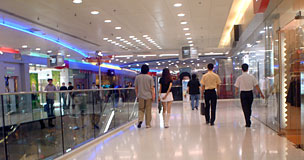 Near Oriental Plaza there is one of the largest book stores in Beijing, the Wangfujing Book Store. This is 6 floors of books, mainly Chinese but has a large selection of Chinese literature translated into English. You can also find books for studying the Chinese language and some maps and guide books in English. Credit cards are accepted in the book store and many of the larger stores in both malls.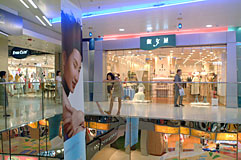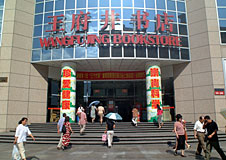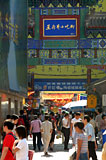 Wangfujing is located pretty much in the center of Beijing and is not too far from Tiananmen Square. You can get there by subway The wangfujing station(118)onlina 1 has an exit which takes you directly into Oriental Plaza. The other option is to go by taxi. The south end has a large taxi rank, opposite the Beijing Hotel. The rank is the only place where taxis are allowed to drop off or pickup, so don't try stopping one anywhere else when you leave. The Chinese name for Wangfujing is written below. Print and hand to your taxi driver.
See all Beijing Department Stores See all Beijing Shopping Areas
---
Beijing Tour |Beijing Private Tour | Beijing Things To Do | Beijing Attraction | Beijing Hotel | Beijing Shopping | Beijing Cuisine | Beijing map | Beijing Car rental | Beijing Entertainment ||Night life in Beijing |Beijing Trave Tips| Beijing Traffic |Chinese Food Guide |