Southern Pasture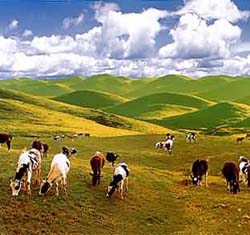 South Pasture is located 60 kilometers away from Urumqi city which is about, about 2 hours drive. It is a vast natural area with fascinating scenery.
It's landscape stretches into the distance and is painted with flocks of sheep and horses and yaks grazing among the wild flowers. Deep in the lush valley, a waterfall gently drops down and integrates with the peaceful surroundings.
Yurts are sprinkled over the pasture and are home to the local Kazakh people. Visitors can visit a local family if they wish. Many foreign tourists say that a visit to a local family was a highlight of the day. The Kazak people are hospitable and generous. They usually invite their guests to share dinner of roasted lamb, milk and their traditional food-rice taken with hands.
Sometimes it is possible to see colorful activities such as horse-racing, traditional singing and dancing presented by the Kazak people.
Yurt-style hotels you are available if you would like to stay a night. Warm clothing and flashlights are essential.
Additional beautiful spots in Southern Pastures from west to east are respectively Chrysanthemum Tai (a table-board of alluvial fan), East White Poplar Gully, Zhaobi Mountain, Miao'er Gully and Da'xi Gully. With the embellishment by these other sights, Southern Pastures is even more beautiful and fascinating.
West White Poplar Gully is the preferred place in the Southern Pastures for touring on horseback the pasture so that you can enjoy a relaxing but invigorating summer holiday.
---

Back