Beijing Bus
Beijing now has a much improved transport system, which includes buses of various types traveling along multitudinous lines. The public bus and the trolleybus are the main bus types which are reasonably optimized. There are urban lines (bus No.1 to No. 122), night buses (bus No. 201 to 212), suburban lines (bus No. 300 to No. 949), air-conditioned buses (beginning with 8), double-decker buses (beginning with ль- Te in Chinese means special), and tourist buses that travel along special lines taking in the many scenic spots.
Many of the old buses have been replaced by energy-saving green buses. These new buses are quipped with electronic bus-stop announcements, IC card readers, electronic monitors, and passenger-monitoring devices. Some buses in Beijing are installed with mobile television. Live broadcast televisions can be viewed on the bus if the bus is traveling under the speed of 120 kilometers (74.56 miles) per hour. Broadcast times are from 06:00 to 23:00 daily, when buses are in operation.

Sightseeing Bus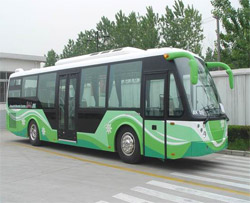 There is this kind of buses in Beijing and here are the routes of them:
You 1: Qianmen- Badaling Great Wall- Dingling (one of the Ming Tombs)- Changling (one of the Ming Tombs)- Jiulong Amusement Park
Fee: 9-11RMB
You 2: Beijing Station-Badaling GreatWall-JuyongguanGreatWall-Dingling-Changling-JiulongAmusement Park
Fee: 9-11RMB
You 3: Dongda Bridge- Badaling Great Wall- Juyongguan Great Wall- Dingling- Changling
Fee: 9-11RMB
You 4: Zoo- Badaling Great Wall- Juyongguan Great Wall- Dingling
Fee:9-11RMB
You 4: Xizhimen- Badaling Great Wall- Juyongguan Great Wall- Dingling
Fee: 11RMB
You 5: Qianmenxi-Badaling Great Wall-Juyonggua Great Wall-Dingling-Changling-Jiulong Amusement Park
Fee: 9-17RMB
You 6: Xuanwumen-Mutianyu Great Wall-HongluoTemple- the lake:Yanqi Hu
Fee: 24RMB
You 6: Dongsishitiao- Mu Mutianyu Great Wall- Hongluo Temple- the lake:Yanqi Hu
Fee: 24RMB
You 7: Qianmen-TanzheTemple- the cave: Shihua Dong- Jietai Temple
Fee: 22RMB
You 7: Fuchengmen- Longqing Gorge-Badaling Great Wall Fee: 32RMB
You 8: Qianmen- Longqing Gorge- Badaling Great Wall Fee: 32RMB
You 8: Andingmen- Longqing Gorge- Badaling Great Wall Fee: 32RMB
You 9: Ming Emperors Wax Museum-Dingling-Shisanling Reservoir-Mangshan Park-Jiulong Amusement Park
You 9: Zoo-Ming Emperors Wax Museum-Dingling-Shisanling Reservoir-Mangshan Park-Jiulong Amusement Park
You 9: Xuanwumen-Ming Emperors Wax Museum-Dingling-Shisanling Reservoir-Mangshan Park-Jiulong Amusement Park
Fee: 24RMB
You 10: Fuchengmen-YujuTemple- Shidu
Fee: 20RMB
You 10: Qianmen-YujuTemple- Shidu Fee: 20RMB
You 12: Xuanwumen- White Dragon Pond (Bailong Tan)- Simatai Great Wall
Fee: 25RMB
You 12: Dongsishitiao- White Dragon Pond (Bailong Tan)- Simatai Great Wall
Fee: 25RMB
You 14: Exhibition Hall-Jinhaihu Park
Fee: 22RMB
You 14: Dongda Bridge-Jinhaihu Park Fee: 22RMB
You 16: Xuanwumen-HongluoTemple- Qinglong Gorge
Fee: 16RMB
You 16: Dongda Bridge-HongluoTemple- Qinglong Gorge Fee: 16RMB
You 18: Xuanwumen- Panshan Fee: 27 RMB
There are also Sight Seeing Trains to near cities running lines are as the following:
From Beijing Station (8 lines)
Y209: Beijing (7:52)- Fengren (9:29)- Beidaihe (11:01)- Qinhuangdao (11:32)
Y201: Beijing (7:18)- Beidaihe (9:48)- Qinhuangdao (10:21)
Y211: Beijing (8:35)- Tianjingbei (10:08)- Tianjing (10:25)
Y213: Beijing (10:20)- Tianjingbei (11:49)- Tianjing (12:02)
Y215: Beijing (15:45)- Tianjingbei (17:15)- Tianjing (17:28)
Y211: Beijing (19:09)- Tianjingbei (20:38)- Tianjing (20:51)
Y219: Beijing (21:18)- Baijian (23:45)- Lingqiu (2:38)- Wutaishan (4:06)- Yuanping (5:40)- Xinzhou (6:21)- Taiyuan (8:00)
Y225: Beijing (7:29)- Huairou (8:31)- Xinglong (10:12)- Chengde (12:10)
Getting on and paying for a bus
There are two ways to pay for a bus. One is to pay immediately, as you get on the bus. There will be a box with a slot near the driver. You put your money (usually 1 RMB) into the box. The driver oversees the process, and no change is given.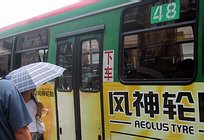 In the above pictures, you can see this kind of pay the driver bus. The rear doors are closed and are marked with the symbols for "get off the bus - exit". The front door has a line of people paying the driver with the symbols for "get on the bus - enter".
Another kind of bus has a dedicated employee whose job it is to collect the money from the passengers. On this kind of bus, you get on first, then pay later, at any time during your journey. The pictures below show the ticket seller and the pay-later bus, free-for-all, any door entry system. :-)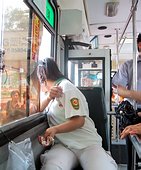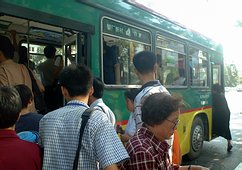 If the bus you are getting on is a regular, 1 RMB to anywhere, bus (see Bus Tip 1), it will often be the first type where you give the driver, and his little box, 1RMB, but this is not always the case, some are pay-later.
If it is a pay-by-distance bus (see Bus Tip 1), the person collecting money will ask you where you want to go so that they can determine your price. At this point you'd better have the written name of the station you want to go to to hand to them, or you can practice your Chinese pronunciation (not recommended).
s timetables look like some kind of strange mystical ancient tablet with strange markings to the average foreign tourist. But they are actually not too difficult to read once you have a few tips.
Below is a typical Beijing bus sign.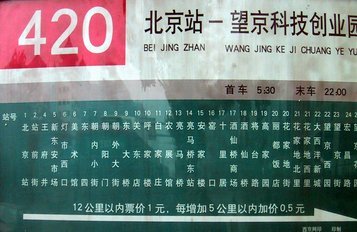 The big number in the top left hand corner, not surprisingly, is the bus number. Can also be found on the front of the bus. :-)

To the right of that are the first and last stations that this bus stops at. Easy huh ?

The writing and numbers in the grey bar signify the first and last bus times of this type. Another tip will be written soon explaining how to really read this part.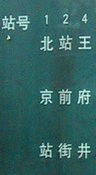 Next are listed the place names at which this bus stops. The place names are listed vertically on the sign, each under a sequence number. The sequence numbers are sometimes not quite right due to frequent changes, (as in the picture left). The first station in this sign is "Beijing Railway Station", station number "4", is "WangFuJing" (the main pedestrian shopping street and recognized centre of Beijing).
The bottom part of the sign details the price of the bus. Although many buses are priced 1RMB for anywhere you want to go, some are not. The sign below states that you can go 12km for 1RMB, then for every extra 5km the price goes up by 0.5RMB.

Below is from a different bus sign. This sign does state that its 1RMB no matter how far you go. Note on the sign below, the Arabic numeral "1" has been replaced by the Chinese character equivalent which looks like a "-" (dash).

Rough translation "-" (1) ticket price is "-" (1) RMB. The hovering tray above the table symbol means RMB and appears on both signs.
Related tips:
Take the Bus:
On a bus stop board, you can find information such as the number of the bus, departures, terminus, first runs, last runs, and the name of the current stop. The names of bus stops are written in Chinese characters. The first and last runs are shown respectively by Chinese characters . The stops listed vertically on the board are under a set of consecutive numbers. There is always a long arrow (
) under the names of the stops, and the directions of the arrows indicate the directions that the bus travels. Also, some show the ticket fare of the bus on the board.
Check your bus number and destination before boarding the bus. Many names of places are the same, and this may cause some confusion. Some buses only permit boarding from the middle door and exiting from the front and back, so take the bus form the right door and pay the fare. You can write the Chinese name of your destination and show it to the driver or conductor if you cannot speak Chinese. The newest Beijing map, available at bookstalls, provides detailed line information and all bus numbers in Chinese. If you are not familiar with the routes, ask the conductor for help, since the re-routing for
public lines often occurs.
When a bus reaches a stop, the bus-stop name will be announced by the electronic bus-stop announcement machine, and then repeated by the conductor or the driver. All announcements are in Chinese, and conductors and drivers typically do not understand English. Some buses along the route of Chang'an Jie or places where there are more foreigners announce the stop names in both Chinese and English. Inform the conductor or other passengers of your destination in advance, and assistance may be provided when approaching your stop.
Traffic jam occurs frequently in Beijing, especially during the rush hour. Theft is a problem on the bus transport system. Money, mobile phones and other valuables need to be kept well secured especially when boarding and exiting the bus. If your trip is a little long, BeijingTrip.com suggests takings the subway first and then transferring to the public bus.
See all Traffic in Beijing See all Beijing City Transportation