Beijing Subway Brief
The metro network of Beijing is not as great as Tokyo and Hongkong but it's the fastest, punctual, reliable, economic means of transportation touring the city of Beijing. By the year of 2008 Olympic Games there will be totally 7 subway lines in Beijing, namely Line 1, Line Batong (above-ground light-rail line), Line 2, Line 13 (above-ground light-rail line), Line 4, Line 5 and Line 10, up to 300 kilometres of subway lines by 2008. By then, subways will carry at least 20 per cent of passenger traffic in Beijing. For international tourists visiting Beijing, some basic knowledge of the main subway lines, like Line 1, Line 2 and Line 5, is quite helpful and resourceful. These three subway lines take you to almost all the major attractions in Beijing. The subway stations are clean and have English signs directing tourists to the exits near places that you are likely trying to find. Here is a list of the top 10 attractions near subway stops: 1. Tiananmen Square 2. Forbidden City 3. Ancient Observatory 4. Lama Temple and Confucius Temple 5. Shichahai Hutong Tours 6. Junshibowuguan (Military Museum) 7. Ming Dynasty (1368-1644) City Wall Relics Park 8. Temple of Heaven 9. Beijing Zoo ( Panda ) 10. Financial Street and CBD area.
While you never know how long it will take you to get to your destination in a taxi, it is nice to take the subway, which is reliable. While the subway does not cover the entire city, if it goes where you want to go, it is worth trying. Especially at rush hour, it beats getting on the road and can be much faster than a taxi.
The Beijing Subway system does connect some of the major tourist destinations such as Tiananmen Square/Forbidden City, Wangfujing, the Lama Temple, the airport, the train station and the Olympic Park.
If paying cash it costs RMB 2 per ride, but if you use it regularly buy some extra tickets or get a prepaid swipe card. For a swipe card you pay RMB 20 deposit, refundable, plus whatever amount you want to put on the card. Sometimes the lines at rush hour to buy tickets or update swipe cards can be very long, so best to get this sorted out. Also make sure you get in the right line, one is for swipe cards, the other for RMB 2 single use tickets. Look in the window at what people are doing then get in the correct line.

Swipe cards can also be used on buses.
Paper ticket single use.
The two original lines are "1" which goes east-west across the city and "2" which is a loop line following the second ring road. New lines include "13" which runs across the top of the city, line "5" which is north-south and goes close to the Olympic Green. Also new is the airport line and lines "8" and "10" which service the Olympic Green and northeast side of the city, including the east third ring road.
The subway in Beijing is rather limited at the moment with just 4 lines in operation. It costs 3 RMB to most destinations, with outlying suburbs costing 4 or 5 RMB, but this will change within the next few years. By 2008 there is likely to be 13 lines in Beijing covering the whole city and the airport. Right now, the subway is a great way to beat the growing Beijing traffic chaos.Subway
In Beijing subway stations, somewhere you will find a counter like the one pictured below which is selling tickets. Nowadays it conveniently states "Tickets" along with the Chinese. Depending on the time of day and the station you might see a queue or maybe a "huddle". We advise you to be a good foreign tourist and encourage the queue.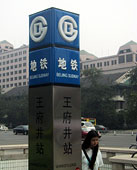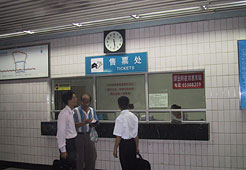 The ticket will set you back 3 RMB. This will take you anywhere on the main two subway lines. (1 & 2). There are now two other subway lines in operation, the 13 line in the north, and the "Ba Tong" Line 1 extension in the east. These other lines cost more money to ride and you can buy combination / transfer tickets as follows:
| | |
| --- | --- |
| Subway Lines | Price |
| Anywhere on lines 1 and/or 2 | 3 RMB |
| Line 13 only | 3 RMB |
| Line 1 Ext (Ba Tong) only | 2 RMB |
| Transfer 1, 2, 13 | 5 RMB |
| Transfer 1, 2, 1 Ext (Ba Tong) | 4 RMB |
Most foreign tourists will rarely venture off lines 1 and 2, so you will primarily be interested in a basic 3 RMB (line 1 & 2) ticket. If you don't speak or indicate otherwise you will be sold a simple (line 1 & 2) ticket. It will look something like the one below but it may be a different color such as blue or yellow. If you really do intend to use Line 13 or Line 1 Ext., please refer to our page on buying and using a line transfer ticket.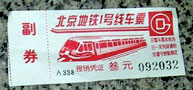 After buying your ticket you then proceed down the stairs to the platforms. Some officials will ask you for your ticket at this point. Most people in Beijing give them the whole ticket, as no-one will ever ask you for it beyond this point. Outsiders may feel uncomfortable without half of this ticket so if you insist, they will rip it in half for you allowing you to proceed with your proof.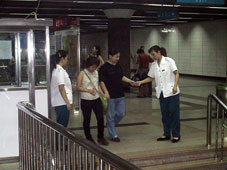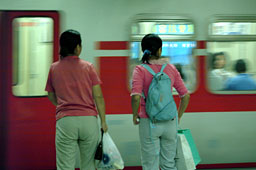 Once you're on the platform you then have the joy of figuring out where you are and where you're going. You usually only have two directions to choose from and there will only ever be a 2 line transfer station, so you shouldn't have too many difficulties from thereon. We now have a complete map of the subway system online or for download and printing. Visit our Beijing Subway Map area now !
We currently just have a version designed for printing and desktops which gives the complete Beijing subway system along with a lot of useful information. If you are a student of Chinese, it is extremely useful, as has Hanyu Pinyin marks for all station names (not present even on the official Beijing Subway signs). The print versions are ideal to print out and carry around town with you.

The subway runs from 5am-11pm daily. Tickets are purchased from manned ticket counters though electronic ticket machines are available on the newer lines.
Some of the older paper tickets may become collector's items as they are phased out for standardized issue. Occasionally special paper tickets are issued which can be particularly attractive.
Line 1-an underground line that runs east-west along Chang An Avenue, from Sihui in the east through Wangfujing, Tian An Men, Xidan and the Military Museum all the way out to Pinguoyuan.
Line 2 (aka-"loop" line) - an underground line that follow the 2nd ring road. Runs from Jishuitan in the north via Yonghegong Lama Temple south to Jianguomen then west via Beijing Station.
Line 5 - an underground line opened in October 2007 that runs north-south and intersects Line 13, Line 2, and Line 1.
Batong Line - this is an above-ground light rail extension of Line 1 to the east, with transfer stations at Sihui and Sihui Dong. This line will take you to Tongzhou and beyond.
Line 13 - an above-ground light rail that follows a broad northerly loop from Xizhimen to Dongzhimen
It does get incredibly crowded on weekdays during rush hour, so if you value your personal space, you should take this into consideration.
Six new subway lines are underway including Line 4 (from Beigongmen to Majiabao, 23.9 km), the north section of the Subway 10th Line (from Huoqiying to Dabeiyao, 23.9 km), the Olympic Line (from Olympic Park to Panda Roundabout, 4 km), Yizhuang Line (from Songjiazhuang to Yizhuang, 26 km), Airport Special Railway Line (from Dongzhimen to Capital International Airport, 22 km), and the middle section of the Subway 9th Line (from Baishiqiao to Beijing West Railway Station, 5.8 km). Renovations to the subway system include installing a new ticketing system and adding new subway cars, all of which is currently being done in preparation for the 2008 Olympics.
Subway entrances are easily identified since they have a blue sign with a stylized letter ''B'' wrapped around a letter ''D.'' Operational hours are from 5:00AM to 11:00PM for Line 1, Line 2 and Batong Line. Line 13 is operational from 6:00AM to 9:00PM.
Metro (in operation) Map:
See all Traffic in Beijing See all Beijing City Transportation